Since our launch to the visitor attraction industry ten months ago, we've been busy designing experiences and testing ideas ahead of what we expect will be a 2018 opening…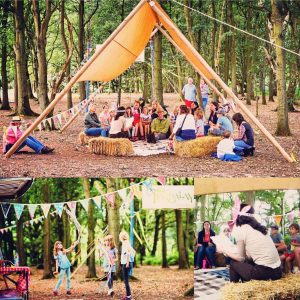 We've often said that we believe wholeheartedly in co-creating with children and letting them tell us how they want to play within the magical world of Timbalaya.
So with that in mind, we created a wondrous summer of activities to bring Timbalaya to life and to let children play outside in the natural world.
Teaming up in the UK with artists, there were workshops exploring the story and characters of Timbalaya. Georgina Parfitt, author of book one: Beyond Wishing, loved every minute…
"Seeing the characters come to life through the eyes of children was such an amazing feeling. They need so little of the story before they're off in their own imaginations, picturing what the characters look like, and putting themselves in the magical world of Timbalaya".
A pop-up touring event in August brought everything together or rather brought it all outside. A Wombat Palace was created. Knobbly Buns (a staple diet for Timbalayans) were beautifully baked after weeks of extensive testing. Storytelling, adventures in the woods and a trail of riddles that flummoxed the best of them rounded off that particular day.
As creators of the brand, there was nothing better than immersing ourselves in the world of a child and letting them show us how it's done. It was inspirational to us as a creative group, and at the same time incredibly rewarding to see our vision come to life and watch children playing outside for hours.
What next? Well, expect more product development. Watch out for Timbalaya on Tour in 2017.